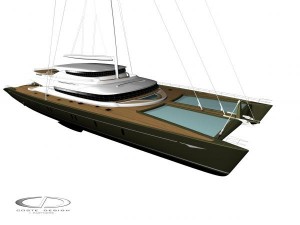 Blue Coast has a design for a 165-foot sailing catamaran by Coste Design. She has been described as the ultimate definition of a sailing yacht. At the time of design, it would have been the largest sailing catamaran in the world.
The styling created by Coste Design shows timeless elegance and innovation like the "facet style" shape of the windscreen and a huge helipad. The Blue Coast 165' shows four decks (two in each hull) and living area with lots of different locations for giving privacy to the guests, easy circulation for the crew and huge storage for toys and tenders.
Composite building allows a light and very resistant structure which is fitted with the best equipments to mega yacht standards. The yacht is studied to be eco friendly with diesel electric propulsion and the high ratio sail plan shows simplicity and efficiency.