Allures dismasted.
We are saddened to hear of the dismasting of Allures, the 30m custom built carbon catamaran and even sadder to hear of the resulting death of a crew member. our thoughts go out to the family.
She was transiting the Gulf Saint Florent in Corsica in 45 knots of wind and 4 meter seas when this happened according to reports on French TV.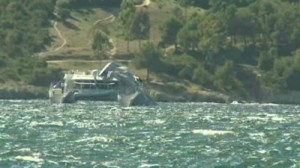 According to the designers website:
The Blubay 100' "ALLURES", is a full carbon sail catamaran of outstanding class and extremely fast, designed by the talented design office of Jean-Jacques Coste. "ALLURES" was nominated for the "WORLD SUPERYACHT AWARD 2007" for the best sailing yacht from 30m to 44m.
She is one of the fastest sailing yachts on the water and offers the highest level of comfort, safety and handling. The yacht shows the exceptional styling which has made the reputation of Jean-Jacques Coste and his team. The modern and elegant lines are perfectly integrated within the luxurious interior volumes.
She is a high class yacht, elegant and refined, made for fast cruising with friends and family whilst at the same time ideal for chartering. Sporty but simple to sail, she represents the ideal means of living in communion with the sea while fully enjoying luxury and comfort of an exceptional vessel.
"ALLURES" is a three deck sloop rigged catamaran built in prepreg carbon fibber. She represents the vision of the ideas and concepts developed by Jean-Jacques Coste since 25 years. She offers the level of comfort of a motor yacht with the speed and sensations of a racing sail yacht.
"ALLURES" with its 30.6 meters in length, 13.3 meters in beam and a mast height of 37 meters and weighting less than 55 tons, is an outstanding yacht. She certainly is the most elegant, coherent and homogeneous sailing catamaran ever built.
Performance under power is outstanding with more than 16 knots at top speed. Under sail, she proved to be, like racing boats, faster than the wind with a speed of 13 knots reached with only 8 knots of true wind. She can offer extended cruising at speeds over 20 knots and is able to reach 30 knots whilst remaining in total security and in absolute comfort.
Comparing her to a standard mono hull of her size, she sets new standards of sea capabilities and living area. She is the perfect platform to enjoy a new way of sea-living.